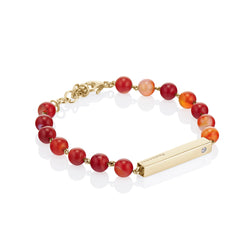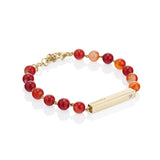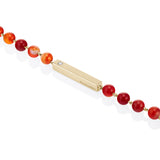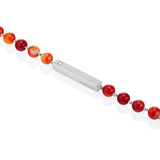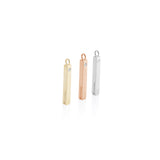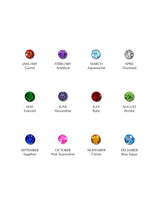 Orange Agate Beaded Bracelet
Available in 18k Yellow or Rose Gold; Sterling Silver.
Total Bracelet length 7.5" with adjustable extender at 6.5".
Horizontal Bar Dimensions - 1 3/16"Lx3/16"W.
Gemstone Beads are 6mm.
Gemstone on bar 2.5mm round.
Lobster clasp closure.
About the Bead
Orange Agate healing crystals are grounding stones, bringing about an emotional, physical and intellectual balance. They aid in centering and stabilizing physical energy. ... A soothing and calming gemstone, Agate works slowly, but brings great strength.